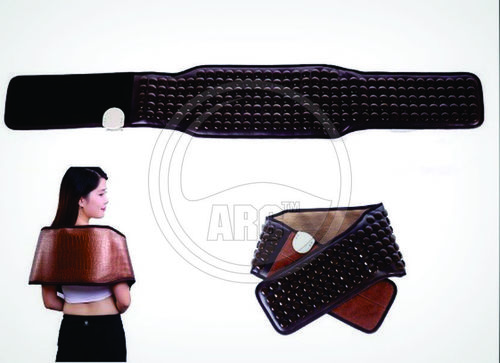 Tourmaline Mat
Product Code : ARG 718A
Product Description
Product Description Of Tourmaline Mat:

ARG TOURMALINE HEATING MAT (ARG 718A) is inset with disks of 220 natural tourmaline gemstones. When the tourmaline stone is heated, it emits infrared rays that penetrate the body 14-15cm (5.5 to 6 inches). The rays not only benefit the muscles on the surface of the body but deeper parts of our body. These rays vitalize the biological function of our cells and increase circulation, relieve neuralgia, backache, arthritis pain, eliminate toxins from our blood. It helps to improve the microcirculation and metabolism.
Features Of Tourmaline Mat:
Folds up for easy storage
Easily shift it from space to space
Perfect for massage (relaxes the muscles)
Recuperate from cough and cold.
Ideal for soreness/stiffness in joints or muscles
Temperature Control Levels
Power Indicator
220 Natural Tourmaline Stone
Benefits Of Tourmaline Mat:
Promotes metabolism and blood circulation.
Regulates vegetative nerve and endocrine function.
Reduces blood viscosity.
Improves the function of internal organs.
Enhances immunity mechanism.
Gives relief from cervical spondylosis and back pain
Relieves acute and chronic injury of soft tissue.
Helps in gastric wrist pain and pelvic inflammatory disease.
Specification Of Tourmaline Mat:
BRAND : ARG
MODEL : ARG 718A
COLOUR : BROWN
VOLTAGE : AC 110V / 150 W
IN THE BOX: 1 pc Tourmaline Mat 220 stones with temperature control remote.

INSTRUCTIONS OF USE


Open the ARG718A Tourmaline Mat.
Plug the electric switch into the electric socket.
Lie down on the mat.
Press the power button and rotate the temperature knob to set the temperature from low to high.
Set the desired temperature according to your need.
If the heat is too much then lower the temperature.