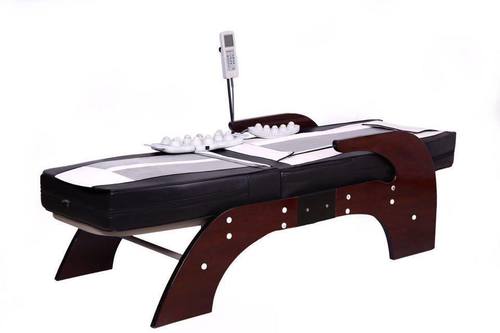 Full Body Automatic Thermal Massage Bed
Product Code : CODE – ARG 729A
Rs.1 INR
Price And Quantity
Minimum Order Quantity

:

1
Unit of Measure

:

Piece/Pieces
Product Description
Product Description Of Full Body Automatic Thermal Massage Bed:


AROGYA FULL BODY AUTOMATIC JADE MASSAGE BED (ARG 729A) is premium jade stone massage bed which contains minerals, calcium, magnesium, etc. When the deep infrared heat rays pass and penetrate through the Jade stone, the stone emit a specific wavelength and frequency that correspond with certain elements in the human body. This energy penetrates deeply into our body and has a resonance effect that can revive tissue, improves blood circulation and effectively get the cells to excrete harmful waste substances and toxins. Jade stone is therefore used in medical devices as curative and relaxing element.
This bed has 9 Jade rollers, out of these rollers 5 rollers are meant for back and neck region and remaining 4 rollers are for the leg which makes it a full body bed, covering from head to toe. Arogya Full Body Massage Bed has very elegant look and is a heavy duty bed.
Features Of Full Body Automatic Thermal Massage Bed:
Full Body Automatic Jade Massage Bed from Head to Toe.
9 Jade Rollers: 5 rollers for back and 4 rollers for legs.
Two external jade projectors: One is 9 ball jade projector to cover areas like knees, shoulders, stomach, neck & other joints, and other is 5 ball jade projector which is meant for ears & other not easily approachable areas.
Full Body Jade Rollers: This bed is equipped with 9 Jade Rollers, out of which 5 rollers are for therapeutic massage on spine, back, shoulder and for neck & head region. It also has 4 Jade rollers set for legs portion which may or may not be present in other beds.
Inbuilt carbon fiber heaters to give effect of far infrared rays to whole body.
Digital Remote controller to access and control all its features
The design of the track for upper body is based on physiological curve of the human spine, the internal projector moves regularly along the five meridians on the back, the internal projector for the leg directly moves along the legs
Benefits Of Full Body Automatic Thermal Massage Bed:
Arogya Jade Massage Bed gives effect of healing far infrared rays, acupressure, rolling thermal massage, negative ions & chiropractic.
It is good for eliminating the pains in back, also good in improving blood circulation.
Gives a superlative massage Reduces tension and stress Improves blood circulation Burns calories and helps to controls weight , Removes body toxins Relieves back, neck and leg pain Boosts your immune system. Loosens muscle & joint tightness fortifies cardiovascular system Increases lymphatic flow Promotes healing and well-being Reduces inflammation and infection Restores proper spinal alignment
Chiropractic Effect: Chiropractic is a healing art which is concerned with human health and disease processes. Doctors of Chiropractic is physicians who consider man as an integrated being and give special attention to the physiological and biochemical aspects including structural, spinal, musculoskeletal, neurological, vascular, nutritional, emotional and environmental relationships. Included is the treatment of intersegment aberrations for alleviation of related functional disorders. Chiropractic is a drug-free, non-surgical science and, as such, does not include pharmaceuticals or incisive surgery
Acupressure Effect: Acupressure uses gentle to firm pressure and integrates bodywork therapies, therapeutic touch, somatic work, healing imagery, energy psychology, and massage therapy techniques. The purpose of acupuncture is to stimulate the activity of nerve systems by inserting a needle in acupressure points. Jade thermal treatment gives the benefits of acupuncture without the discomfort of inserting a needle into human body.
Heat Therapy (Moxibustion) Effect: Moxibustion is a treatment that applies heat to certain spots on the body by burning moxa on the skin. Moxa is a dried herb, derived from the species mugwort. Moxibustion is a traditional Chinese medicine technique that involves the burning of mugwort, a small, spongy herb, to facilitate healing
Massage Effect: The Internal Jade Massage Heads automatically massage muscles and tendons around the spine, relieving tension and helping energy flows. Massaging the spinal area relaxes hardened nerve roots and improves the circulation of energy
Therapeutic Massage: Therapeutic massage involves manipulation of the soft tissue structures of the body to prevent and alleviate pain, discomfort, muscle spasm and stress. It also improves functioning of the circulatory, lymphatic and nervous systems and may improve the rate at which the body recovers from injury and illness


Specification Of Full Body Automatic Thermal Massage Bed:
BRAND: AROGYA
MODEL: ARG 729A
IN THE BOX: 1pc Arogya Full Body Automatic Massage Bed, 1pc 9 Ball Projector, 1pc 5 Ball Projector.

INSTRUCTIONS OF USE


Unpack Arogya Full Body Automatic Jade Massage Bed.
Fix the rod frame of the bed and assemble the bed, which is very easy to do.
Make sure to use Voltage stabilizer along with the bed to ensure better functioning and long life of the bed.
Lie on the bed and press the power button on the remote.
Set the timer and temperature of the bed according to your need.
The rollers will move from upward to downward direction, giving full body massage to the back, neck and leg region.